✅ Due to the worldwide distribution of Novel Coronavirus Covid-19 in the event of cancellation of the trip and the impossibility of attending the performance, you can rebook your tickets for any date within two years after the official announcement of the end of the pandemic by WHO at no additional charge.
X
Repertoire:
list
of our shows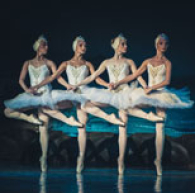 Genre:
Ballet
|
Age restriction: 6+
|
Length: 2 hours 30 minutes
|
Intermissions: 2
|
Opening night: 8 march 1950
A fabled fantasy ballet in three acts and four scenes with music by Pyotr Tchaikovsky. Choreography by Marius Petipa and Lev Ivanov. Libretto by Vladimir Begichey and Vasily Geltzer.
More info
Ticket price:
Tickets available by request